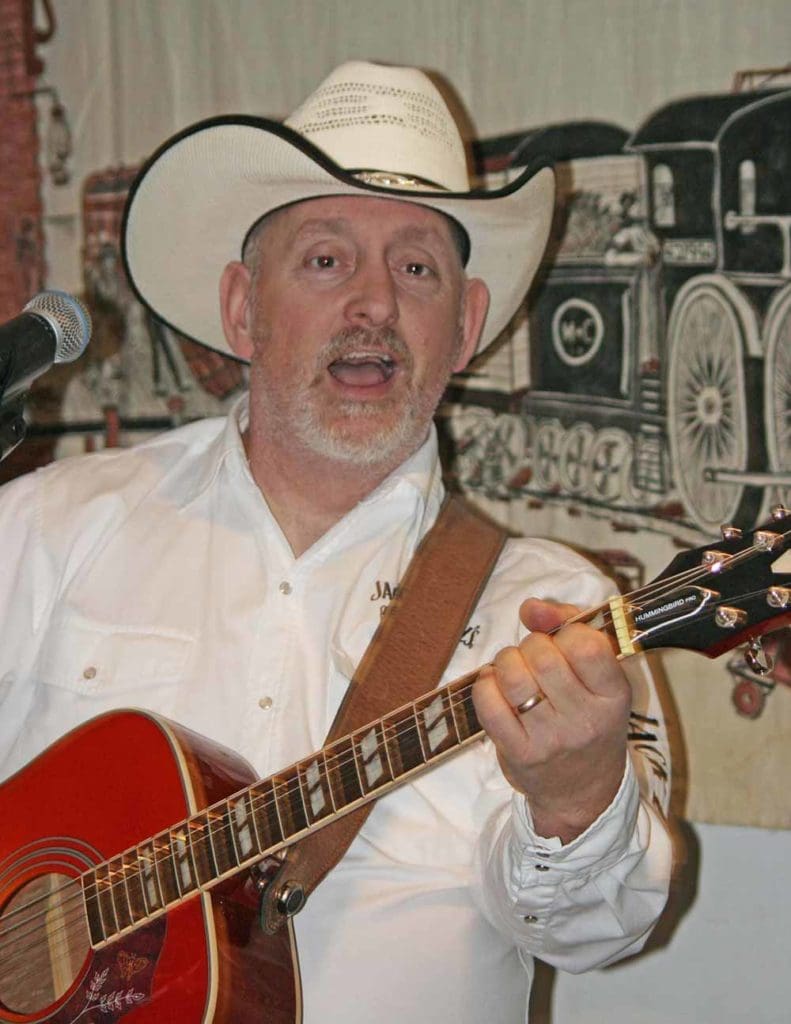 Kenny Jr was just one of the many acts
Sunday 26th August 2023
by Ray Packham
Wythall Park Hall, Birmingham B47 6LZ
A full day as you can see from the programme below. Starting at 1pm Dj Johnny B was tasked with not playing any of the live artists' tracks – a task he managed, just! He did a great job filling the gaps between acts.
Kenny Jr is a very popular act across all the UK and he provided a very modern set using his fine vocals to good effect on Save It For A Rainy Day and Diamonds In The Whiskey and an encore of Whose Been Sleeping In My Bed.
Cliff Weston is renowned for his musicianship and he displayed that guitar work on Messed Up In Memphis and Lucky Lips amongst others before encoring with a Johnny Cash medley.
Local choreographer Vikki Morris provided the dance instruction presenting two new dances Missing That Girl and Million Country Boys which went down well.
Streamline were the next live act and what a set they did with lovely vocals and harmony combined with great guitar work from Paul Weston. I particularly enjoyed I Feel Lucky and Monday Morning Blues before their encore of Till You Can't.
There was a fairly long break to allow the evening artists to set up filled by the disco, dance recaps and raffle draw and of course the American Supper.
Spread Your Wings are relatively new to the Country scene and had the unenviable task of following Streamline but did they meet that challenge! Powerful vocals with equally powerful lead guitar backing showed why Neil and Vicki are pulling in the bookings. I enjoyed Keep Me Out Of Heaven, Redneck Woman and the barn dance, Kick My Ass were well received and the encore of Does He Love You with Debbie Weston was simply amazing. One suggestion, the overall enjoyment would be improved with less bass and drums volume.
Everyone remembered the taught dances when Vikki came back for a recap session.
Ex Calico member, Darren Flack has recently joined the legion of solo acts but on this showing he will have no shortage of bookings. In fact he was promptly booked for 2024 by the local Smokey2 CMC!
His guitar work was outstanding and he has a decent voice too. His programme included Seven Nights To Rock, Half Past Tipsy and Sweet Caroline. He encored with Raised Like That.
What can you say about Tony Rouse? He keeps disappearing from the scene and then comes back stronger than ever! The ultimate showman, he just blew his fans away with this performance. Relying mainly on backing tracks he had the audience in the palm of his hand with Forever In Blue Jeans, Halfway To Paradise and Rhinestone Cowboy featuring in his set before an encore of Is This The Way To Amarillo saw him off stage for a while! Tremendous personality.
Final act of the night spot fell once again to the irrepressible Pete Stothard. You know what you are going to get with Pete and tonight was no different! Fun, frolics and dancing whilst singing. He sang It Doesn't Matter Anymore, Johnny B Goode and God Blessed Texas before an encore (of all things) Baggy Trousers by Madness.
He was then joined by all the artists with the exception of Kenny Jr and they performed amazing versions of Don't Stop Me Now, Girl Crush featuring Debbie and Vicki and Hi Ho Silver Lining before the event finished with Fast As You.
A brilliant day which raised over £1,400 for the charity and is guaranteed a return next August. Busy weekend but now looking forward to the Rotary Club's charity day at Birmingham Botanical Gardens next Sunday.