Ex-Servicemen's Club, 9 High Street, Elgin IV30 1EQ
If you check out the Elgin CMC Facebook page, you'll see video clips of all the acts that have appeared on our stage and if you fancy a wee visit to the lovely Moray Firth Coast of Scotland, there's plenty of lovely scenery and some great Country music too! Elgin Country Music Club is on every second Thursday. Doors open at 7pm. The music starts at 8pm and finishes at 11pm. There is a bar at club prices and tea/coffee, biscuits and sandwiches are on sale during the first break. The usual raffle is at the second break. Line, partner and social dancers all welcome, as are listeners.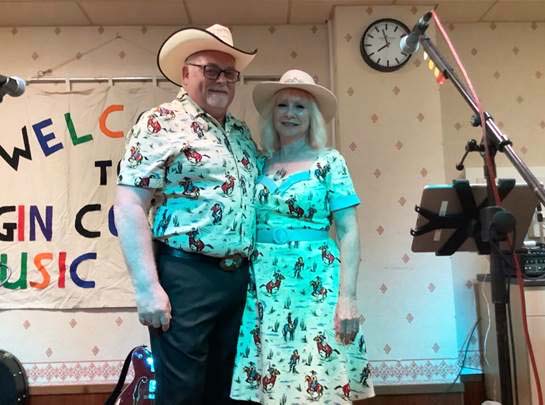 Sunday 20th April 2023
by Gordon
Despite having initial transport problems, David and Gabbi, The Barhoppers, made it all the way to Elgin from Beccles in Suffolk, with one stop on the way. David played lead guitar, mandolin and accordion, although not all at the same time! Gabbi gave us songs like Close All The Honky Tonks by Charlie Walker and the not- often heard Play Me The Waltz Of The Angels by Joey and Rory.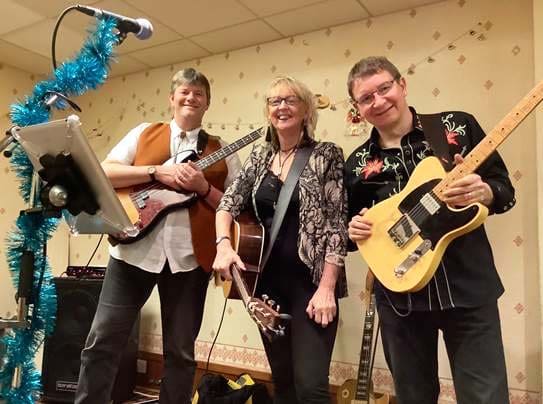 Sunday 6th April 2023
by Gordon
Blue Horizon – Christine, Dave and Mark from Middlesbrough, were on a very short Scottish tour – in fact, it was only to Elgin CMC! Thanks for coming all that way to entertain us. Entertain us they did, with Chris singing songs by the likes of Loretta Lynn, Terri Clark and Carlene Carter and Dave doing some ace mandolin picking on Marty Stuart's instrumental, Hummingbird. Mark supported them both with some solid bass playing. A great night was had by all.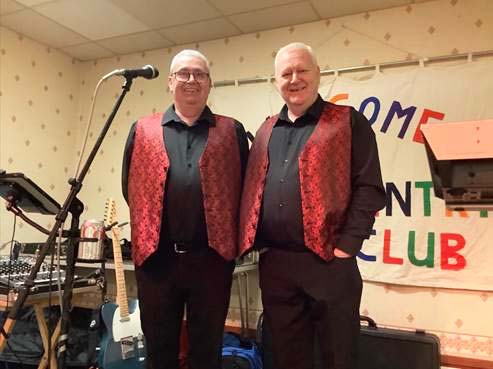 Sunday 23rd March 2023
by Gordon
We always get some great guitar and keyboard playing from Falkirk duo Carson City. Plenty of good Country music but also some different stuff – Ten Gguitars and Answer To Everything might not be Country songs but they were enjoyed by the listeners as well as the line dancers, who can always find a dance to suit the song. Another unusual one was Dougie MacLean's Caledonia, which they played as a waltz. We had visitors in from Perth and Ellon tonight.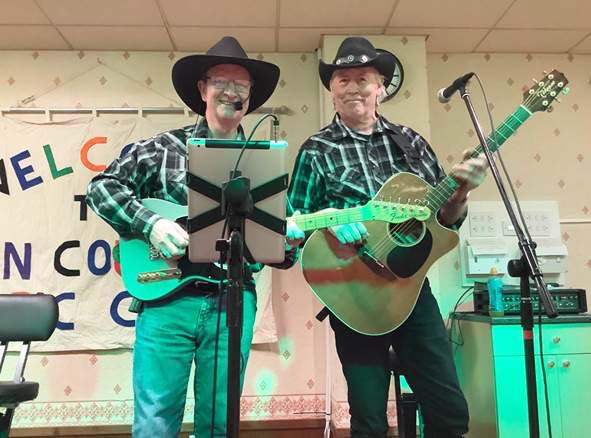 Sunday 9th March 2023
by Gordon
James & Wood (Glasgow boys, Steve and Martin) are always welcome at Elgin. We got three very varied sets of Country music – the line dancers were kept happy tonight with songs like First Fool In Line, Whiskey Under The Bridge and Playboys and everyone enjoyed the oldies like Some Days Are Diamonds and Try A Little Kindness.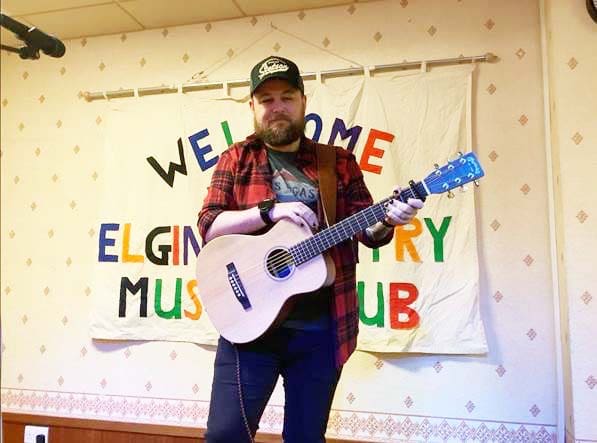 Sunday 23rd February 2023
by Gordon
Trey Jackson, from Newcastle, was back at Elgin with a new look. No change to the great music though – if you like 1990s Country from the likes of Alan Jackson, Joe Diffie and Brooks & Dunn, then Trey's the man for you. As well as 90's stuff, Trey kept us up to date with some Luke Combs songs.
Sunday 9th February 2023
by Gordon
Mike, Davy, Rob and Ryan (no Dougie tonight) are the Allan Pastit Band (Scots will understand this play on words…) and we got some good Country music, with Rob doing most of the lead vocals. Rob is a big Merle Haggard fan so we got plenty of Merle tracks but also songs from George Strait and the Desert Rose Band.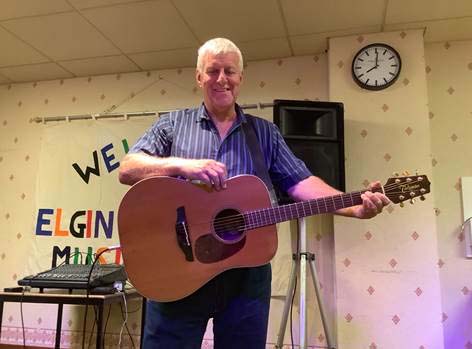 Sunday 26th January 2023
by Gordon
Bill Alexander, from St Andrews, Fife, is always very welcome at Elgin. Tonight, he sang a couple of self-penned songs, as well as a great selection of covers from the likes of Tracy Byrd, Alan Jackson and even Reba McEntire. As usual, our line dancers found a dance for every song. We had visitors in tonight from Canada (via Ellon), Inverurie and from the New Stonehaven Country Club – y'all please come back again!